Climate control
Thanks to our broad selection of air conditioning units, inverters, and technical accessories, we ensure effective and energy saving solutions.
Climate control for an optimal working climate
A perfect temperature in every season creates a pleasant working atmosphere for your employees. Thanks to our extensive range of air conditioners, inverters and technical accessories, we can offer you effective and energy-saving solutions.
Energy-efficient accessories for a pleasant temperature
Algeco likes to opt for sustainable, energy-efficient solutions – we owe that to our stand. Moreover, the use of eco-friendly solutions and accessories saves you money.
For example, think of presence detectors and motion sensors, so that the thermostat can switch off automatically when no one is present. A hydraulic door closer, a flow limiter for the shower or an effervescent nozzle also help to prevent heat loss and water wastage.
Modern HVAC accessories for heating, ventilation and air-conditioning
Portable air conditioners, inverters or a programmable thermostat: Algeco supplies and installs these smart HVAC accessories wherever you want. We are happy to help you turn your modular constructions into a pleasant working environment.
You can choose from one of our 3 solutions that ensure the perfect temperature and air quality in every season.
Premium

Comfort

Essential
Afbeelding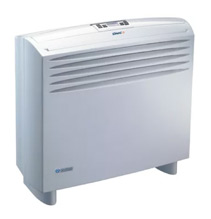 PLUG & COOL 
Eco label: A
EER: 2,6
Sound level: 35-47 dB
PURE COOL AIRCOOLER
Sound level:
50 dB